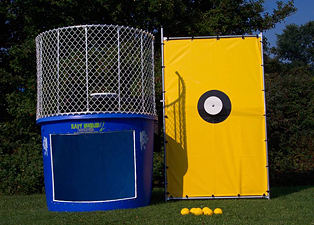 Dunk Tank
$199.00
Prices starting at $199 (4 hours Saturday)
This dunk tank has the largest tank of water for making the largest splashes! There is a huge window in front for everyone to watch the person get dunked!
This dunk tank holds gallons of water. Plan to spend 30-45 minutes to fill with a garden hose.
Easy Dunker Includes:
350 gallon Polyethylene Tank
Vinyl Coated Steel Protective Cage
High Density, UV Resistant Seat, 250 pound weight capacity
Specifications:
Size:
13'W x 39'L x 11'HAges:
5+Occupancy:
1